XYZ Storage - Etobicoke
2256 Lakeshore Blvd West, Etobicoke, ON
1st Month FREE *
Photos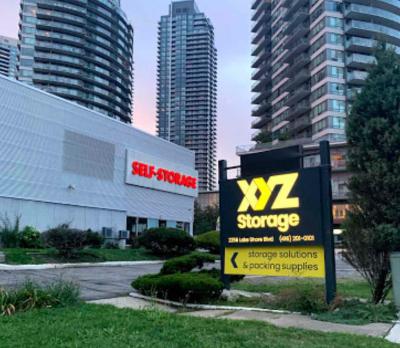 About XYZ Storage - Etobicoke
Book Online NOW - 1st Month FREE on most units
XYZ Storage is pleased to inform you of the services we offer at our Lakeshore Facility. As a FULL SERVICE facility, we are ready and able to provide a wide range of services for personal and Business users, most of which are listed below: Over 800 INDOOR HEATED storage units Safe, clean, economical storage Receiving and forwarding services for mail and tenants goods Boxes, locks and packing supplies Copy and fax machine for your use OPEN 7 DAYS A WEEK Insurance available Truck level loading docks Enclosed loading docks Building features a 24 hour monitored security system Sprinkler system with 24 hour monitoring Storage units are enclosed Prices start at $25.00 per month Wide range of storage units, sizes starting with 4x 3 x 4 and going to 20 x 20 x 8. We can construct storage units of a custom size to comply with a special neeed We take pride in keeping our facility clean and would welome your visit anytime Hours of Operation: MON - WED (8:30AM 6:00PM) THUR FRI (8:30AM 6:30PM) SATURDAY (9:00AM 5:00PM) SUNDAY (11:00AM 5:00PM
Features
Climate Control
Free Moving Truck
Drive-up Access
24/7 Security Monitoring
Parcel Delivery Acceptance
Drive-in Loading Bay
Packing Supplies
Dollies & Carts Available
Payment Options
Vehicle Storage
Moving Truck
Facility Reviews
---
I needed storage space for about 8 months and this place was great. Everything could be arranged online (I don't live close to the storage unit), they were very flexible about everything and very organized. When I needed friends or movers to access the locker it was always easy. They were friendly and prompt every time I needed anything. The place was clean and well kept. I would definitely use them again if I need storage.
---
I woke up, signed up on-line and then went to the storage building at 9:15 am. Candice was at the desk and has already processed my on-line application. She toured me through the facility, showed me my locker, taught me how to operate the industrial elevators and showed me the washrooms. She was pleasant and easy to work with. No tacky sales pitches. Complimentary carts to move my belongings; made the move in seamless. The facility is clean and easy to access. So far I am pleased. Thank you Candice for your kindness.
---
We were very pleased with XYZ Storage Etobicoke. The hours and location were very convenient. The storage locker met all of our needs and it was easy to move items in and out of our unit during the 4 months we rented our locker. Staff were always friendly and helpful. I would definitely go back if I have storage needs in the future.
---
Safe, spacious, and easy to move in storage building. I had my stuff stored here for over two months and never once worried about it getting stolen or damaged. I even accidentally forgot two pictures on my move out day and the staff we're kind enough to hold onto it for me until I returned to get them. I highly recommend this storage building. Thank you XYZ staff.
---
Great experience at this storage facility. we've requested to change the size of our unit a few times and Candece always goes above and beyond to facilitate us. great costumer service and fair prices. couldn't recommend this place more!